The central part of Vietnam where the cities of Hoi An, Hue and Da Nang are located, is considered to be one of the main touristic centers of the country. The region contains a diversity of attractions ranging from a UNESCO World Heritage town to archeological sites and even Vietnam's former imperial capital. For outdoorsy types, the area also has plenty to offer in terms of beaches and you can find plenty of award-winning luxury resorts here. The world's largest cave – Hang Son Doong – can also be found in the region.
If you are visiting Da Nang, Hoi An and Hue and thinking how long you need to spend in the area, I would suggest you go for 5 days / 4 nights minimally. The three cities are accessible from each other to be day trip destinations but I would suggest spending at least a night per city to really appreciate the distinct vibe in each place.
Where you start really depends on your personal preference and where you are coming from. During my trip to Central Vietnam, I arrived via Da Nang International Airport and headed to Hue right away as it was the farthest of the three cities. From Da Nang, Hue is around a 2 hour drive.
Day 1:  Danang –  Marble Mountain – Hue City
Upon on arrival on Da Nang Airport, from here, you can head straight to visit Marble mountain.  The five mountains consist of rock outcrops that are made of marble. Each mountain is said to represent a natural element and is named accordingly to Water, Wood, Fire, Gold and Earth. The largest, Water, has a number of grottos and caves.
After visiting Marble Mountains, you will leave Da nang to Hue city.
Settle in and enjoy the rest of the day at a lovely hotel in Hue.
Overnight in Hue.
Day 2:  Hue city Tour – Hoi An
Visit the Royal Palace which has three perimeters of rampart, namely from outside to inside: Kinh Thanh (Capital Citadel), Hoang Thanh (Royal Citadel) and Tu Cam Thanh (Forbidden Citadel)
Capital Citadel: This construction started in 1805 under the reign of Emperor Gia Long and completed in 1832 under the reign of Emperor Ming Mang.
Royal Citadel: The Imperial City is located in the center of the Citadel where established highest offices of Viet Nam's feudalism and sanctums honoring the cult of decreased Emperors.
Forbidden Citadel: Located inside the Imperial City, behind the Throne Palace, the Forbidden Purple City is reserved for Emperor and his family.
Continue to visit the tomb of King Khai Dinh which is located in Chau Chu Mountain near Hue in Vietnam. It was built from 1920 to 1931 taking 11 years to complete. In comparison with those of the preceding emperors, Khai Dinh's tomb is much smaller in surface but it is very elaborate
Enjoy a boat trip to Thien Mu pagoda, an ancient pagoda in Hue city. Its pagoda has seven storeys and is the tallest one in Vietnam. The temple is often the subject of folk rhymes about Hue, such is its iconic status and association with the city. It is regarded as the unofficial symbol of the former imperial capital.
After that, transfer to Hoi An and enjoy Hoi An – Hoi An is very beautiful city at night. Check out things to do in Hoi An at night here
Overnight in Hoi An.
Day 3:  My Son Sanctuary – Hoi An
Visit My Son Sanctuary, a cluster of abandoned and partially ruined Hindu Temples onstructed between the 4th and the 14th century AD by the kings of Champa The My Son temple complex is regarded one of the foremost Hindu temple complexes in Southeast Asia and is the foremost heritage site of this nature in Vietnam. It is often compared with other historical temple complexes in Southeast Asia, such as Borobudur of Java in Indonesia, Angkor Wat of Cambodia, Bagan of Myanmar and Ayutthava of Thailand. As of 1999, My Son Sanctuary has been recognized by UNESCO as a world heritage site.
In the afternoon, take a walking tour around this enchanting port town of Hoi an, follow the narrow lanes lined with centuries-old houses influenced by Chinese, Japanese, French and European architectures and visit its numerous places of interest: the 400-year old Japanese Covered Bridge, the Phuc Kien Assembly Halls, the Tan Ky old house, the local market …
Japanese Covered Bridge dated back to the 18th century and is a beautiful historical piece of Japanese architecture. It is claimed that it was created by the Japanese then living in Hoi An as a way to reach the Chinese quarter across the water.
Phuc Kien Assembly Halls was built around 1690 and functions as a traditional assembly hall for the Chinese ethnic group from Fujian, China to socialize, but later was transformed into a temple dedicated to their deity named Thien Hau – the goddess of sea who protects sailors from danger.
Tan Ky old house is an almost perfect example of an 18th merchant's residence in this major commercial port town.
Back to Danang and overnight in Danang.
Day 4:  Bana Hill- Golden Bridge
Start our trip to Ba Na Hills, a hill station and resort located in the Truong Son Mountain west of the city of Danang. The station, advertised as "the Dalat of Danang province" by local tourism authorities, was founded in 1919 by French colonists. A trip on cable car will offer you a chance to admire the panorama of Ba Na Hills, spring stream, Danang city and Danang coast from your cabin at the height of 1,487 metres above sea level. Then explore the grandeur of the Golden Bridge and witness the colossal hands stretching out the skies
During your time on the mountain, enjoy a visit to:
The Le Jardin with the relics of the French, such as the force of the French horse, nearly 100-year-old grapefruit trees and traces of ancient villas. Especially Debay cellar, wine cellar was built by the French in 1923, spent nearly a century, they still retain cellar wild, mysterious, is the work of the French single remaining fairly intact Ba Na.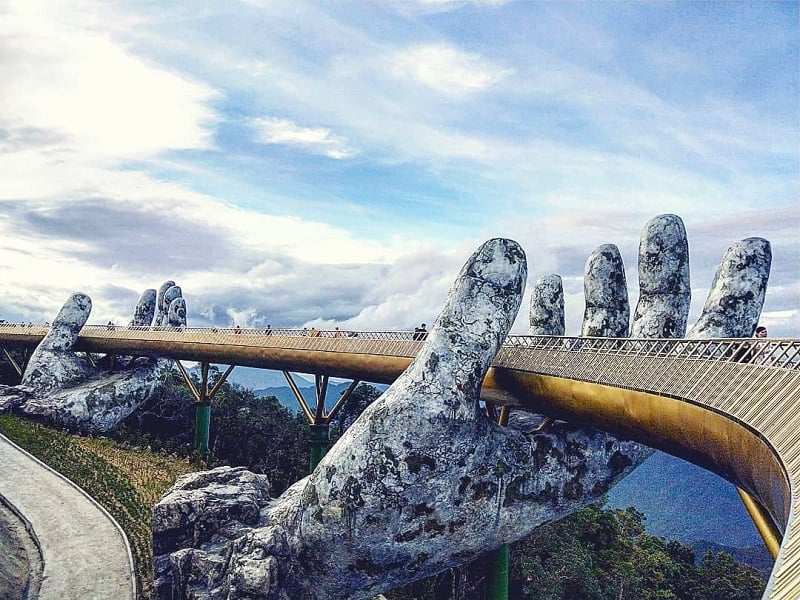 Linh Ung Pagoda, located on the peak of Ba Na Mountain at the height of 1.400 meters, was officially inaugurated on the 5th of March, 2004. Belonging to the Mahayana branch, the pagoda's architecture is similar to the Tam Thai's pagoda with a large stone-paved yard and a special pine tree with three different kinds of leaves in front of the temple. The Linh Ung Pagoda is not only built to preserve the spiritual values and ritual implements, but it is also an excellent tourist attraction because of its arrangement, surrounding landscape and architecture which boasts traditional marble carvings and animal statues.
You can also feel your interests with a lot of pretty villas, newly built hotels, and bungalows here. Each one has its own flower garden with many types of aristocratic flower that Frenchmen left during the 50 past years.
Free for joining games in  Fantasy Park – the third biggest indoor games zone in Vietnam.
You can book for Bana Hills 1 Day Tour here
Heading back to Danang center around 5-6 pm. If it is Saturday or Sunday, you can enjoy the s the longest bridge in Vietnam – Dragon Bridge breathing fire or spit water from 21:00 onwards. This is one of the most exciting experience everyone should have once in Danang. More things to do in Danang at night here
Overnight in Danang
Day 5: Han Market 
Heading to Han Market for souvenir gifts. Han Market is the oldest and biggest market in Da Nang, having been in operation since the French occupancy in the 1940s. This local market is set within a two-story building at the grand intersection of Tran Phu Street, Bach Dang Street, Hung Vuong Street, and Tran Hung Dao Street, where you can find hundreds of stalls selling an array of local produce, handicrafts, T-shirts, and accessories.
Recommend tour: Private Customizable tour Danang – Hue – Hoi An with Bana Hils 5 days – from  US$425/pax